Topanga Beach, Southern California. Photos and text from (and about) the original surfers in the 60's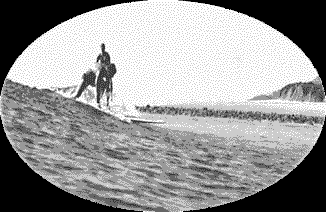 Photo shows Bill Cleary taking off in front of Bob Feigel at Topanga Beach around 1964. Bill thinks it was taken by Bruce Bernstein, another Topanga local.
Bill Cleary was a Topanga Beach local who (along with David Stern) wrote the classic book, Surfing Guide to Southern California. (Click on Title to Link to Re-Issue). Bill was editor of Surfguide Magazine from 1963 to 1965 when the publisher pulled the plug after a $1,000,000 lawsuit initiated by Surfer Magazine's John Severson and Huntington Beach lifeguard captain, Vince Morehouse. Bob Feigel wrote many articles for Surfguide magazine.
Surfguide's publisher was Larry Stevenson, the former LA County lifeguard who literally invented skateboards & skateboarding in 1961
MAKAHA Skateboards - the Makaha, Molokai, Malibu and Phil Edwards Signature models - the MAKAHA Exhibition Team - kids like Jimy Fitzpatrick, Woody Woodward, Torger Johnson, Skip Blank, Joey Saenz, Danny Bear (sp?), George Trafton, Chuck Frease (sp?) and Danny Schaefer - and started the first skateboard competitions. Thirty-six years later they're still making & selling MAKAHA Skateboards. Created by Larry Stevenson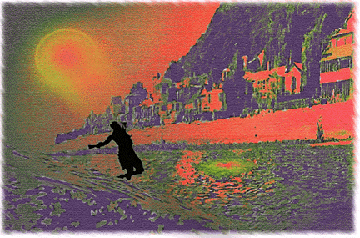 Jim (Jimy) Fitzpatrick (another Topanga Beach local) is the surfer in this picture. Jim was involved in the sport and business of skateboarding as managing editor of ÊSkateboarding,Surfing Guide to Southern California and was involved in Michael Murphy's academy award winning short film on skateboarding, Skaterdater. He was business, and executive director of the International Association of Skateboard Companies. He was a contributing editor of Longboard Magazine.
His father Jim (Fitz) Fitzpatrick was a film director and editor.
Jim, his wife Francis and two friends (Craig & Jane Angell) founded Santa Barbara's Montessori School in 1975.
Bill Cleary went on to become associate editor of Surfer Magazine for several years and conducted the first 'in-depth' interview (still considered a classic) with Mickey Dora (pictured below).
Bill is also one of the founders of Surfrider Foundation, a politically active organization dedicated to preserving the quality of our beaches and ocean.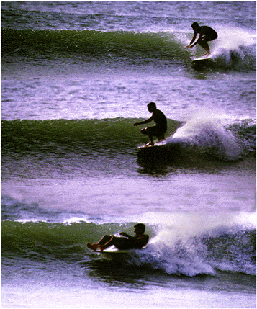 Mickey Dora (da cat) playing at Topanga with classic finesse
Bill Cleary was also one of surfing's earliest trailblazers and spent a number of years searching the coastlines of Mexico, Central America, France, New Zealand and Australia for surf. He is currently living in Montecito, California .
Lawsuit - Surfer Magazine vs. Surfguide Magazine
On the surface the lawsuit was in response to a Bob Feigel Fable called "The Saga of Robin Hoad", a satire that poked fun at Severson (Prince John the Stingy) and the Huntington (Honeycomb) contest. But in many people's opinion the real purpose of the legal exercise was to put financial pressure on Surfguide, which was the only real competition that Surfer had in those days. Whatever the reason, the lawsuit and associated pressures convinced Larry and his backers that it was time to axe the publishing side of things and concentrate on skateboards.
Bob Feigel wrote Feigel Fables, a series of "satirical parodies" that poked fun at surfing - which by 1963 was taking itself very seriously indeed. The series included: "Jack and the Hodad", "The Gremmie Who Cried Shark", "Proxylox and the Three Bagels", "Sindersurfer", "Rip Van Nerdwinkle" and "The Saga of Robin Hoad". He had great fun writing them and waiting for the fallout. Little did he realize it would involve a million dollar lawsuit and the end of the magazine.
During it's brief history, Surfguide had a number of classic characters working for it or contributing articles, including; 'little' Dave Rochlen (the original 'Captain Makaha'), Jim Ganzer (art assistant and creator of JimmyZ sportswear), Mike Doyle (advertising consultant & contributing editor), Kemp Aaberg (contributing editor), Peter Cole (contributing editor), John Peck (contributing editor), Buzzy Trent (contributing editor), Bob Feigel (contributing editor), Ron Stoner (staff photographer), John van Hamersveld (art director), Bob Beadle (advertising consultant & contributing editor), Ron Church (staff photographer), the Calhouns (contributing editors), Peter Dixon (contributing editor), Bob Cooper (contributor), Reynolds Yater (contributor), Corky Carroll (contributor), Leroy Grannis (photographer), Dr. Don James (photographer) and Ron Dahlquist (photographer).
---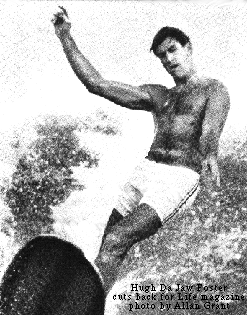 This photo of Hugh Foster appeared in a Life Magazine article entitled "A Way of Life on the Wavetops" (photographed for LIFE by Allan Grant).
The date is a problem - a portion of an article about First Lady Jacqueline Kennedy's restoration of the White House on the back of one of the pages indicates that it was the summer of 1962.
There are other interesting photos in the article: Bob 'Porkchop' Barron executing an elegant 'smelling-my-armpit' maneuver,
and a group shot of the 'Beverly Hills Brat Pack' - including:
Mike Nader (of Dynasty fame), Ricky Zahn (who went on to publish his own version of the Surfing Guide to Southern California* in the early 70's) and a number of faces I can't put a name to.
---
top of page
Links to other surfing sites
*Re-issue contact : John Bury - Ridgetop Books - 805-564-8132

Page created using :

Adobe PhotoShop


tmcb © 1998 (text published with permission of R. Feigel)
no malice intended toward any parties or individuals mentioned on this page
congratulations to all who have succeeded in the business of surfing and skateboarding
may your money buy you happiness in the world of free sports.

revised 2007