Click for more writings by and about surfing from surfers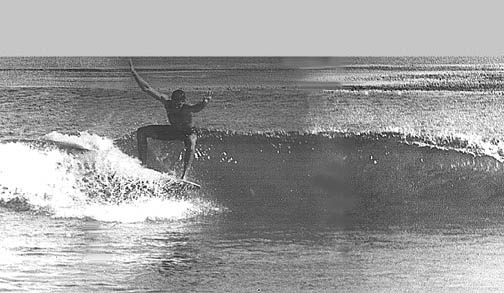 Hugh 'da jaw' Foster, flying left on a giant curl at Malibu. ( Hugh says this is Arroyo Sequit). Photo by Tom McBride
From Hugo "da jaw" Foster: Regarding the Group Photo on Main Page:
Momento from the past, July 1997. "Is that me behind Tubesteak? (no) I really can't remember, but I do recognize everyone. I think that's Nicky Kravanik (sic) from Outer Space on the far right, and a very young Dewey Weber and Richard "Bags" Wallace from Hermosa. I see a lot of old timers like us. Bags had a bout with the bottle during his 40's and haven't seen him since sometime in Hawaii in the mid-70's but continue to look. Two of his buddies, Roger Cundall and Larry Milliken are County Lifeguards and I see them occasionally. Great photo, it's a priceless archive. Hugh Foster - email
September 14, 1997
Howzit!! Time to check in with you again. Hurrican' Linda is fizzling but Orange County coast is bracing. The prognostico for da Wedge is 15+ Monday evening. I will be happy watching it, although there was the day... Ran into Colin Gilbert and your name was mentioned as an old Malibuer. He still rides occasionally He says the Baja Cantina in Marina Del Rey has a collection of old Malibu pics up on the walls. I plan to have couple of beers there soon to check them out. I gave him your web site with the old picture. Went to Honolulu for Labor Day to see my sons. All is well and it was hot. Really not a good time of year to go, but I was due. I went out slow and wound down. Saw Baby Dave Rochlen (all three hundred pounds). I guess Big Dave Rochlen has pancreatic cancer and is due to surf the big one. He started Surfline Hawaii, kept the clothing "Jams" and sold the surf shop to Freddy Schwartz. We lost Freddy way back in 78 0r 79 to the same cancer. We paddled him out and scatterd his ashes at Castles, and Buddy Maguire sang Oe Hawaii. They probably will do the same for Big Dave. Otherwise, time stands still in Hawaii. Hope all is well with Y'all. Keep in touch. Hugo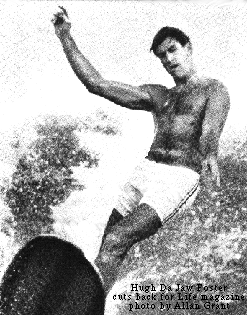 ---
top of page
Keep smilin' back atcha' Date: 7 Jan 1998 21:34:48 -0800 From: Loloau3@aol.com (Hugh WW Foster) To: tmcb
ATOMMC: You're killing me with these pics'. They were obviously buried at the Smithsonian all these years. The motorcycle shot is priceless with Powell, Nichols, me and Gary Jones of all people whose 60' VW I bought. I was wearing my prized M. Nii surfing shorts hand carried back from Makaha by Billy Al Bengsten. M. Nii and Ms. M. Nii made surf shorts at their home on Makaha Valley Rd. and both had opposite legs amputated. So...between the two of them they had had two legs...a left and a right. They like many other classico's are gone. The next classic is Peter Cole, Tom Howard, Kemp, Jim Sproat, and Jon Ebeling who someone aptly named Jughead. Unbelieveable photos. I recall that Tom Howard hit a tree going about 40 mph when he was racing for the US Army Ski Team. They reassembled him unlike our latest two losses, Sonny and Robert. Christmas'd in Hawaii with my two sons. Clean warm waves with no crowds on the south shore at Diamond Head away from the maddening herd on the North Shore. The $50,000 still goes begging for the largest wave ridden...for paddle in's and not tow in's. Freddie Hemmings just published a good book called 'The Soul of Surfing' with many vignettes and excellent photos. Fred's part Portagee so the embellishments are there. I have a copy for your personal perusal if we ever hook up. I am again stoked and madly searching for all old photos. Keep em' coming!!!
Haouli Maka Hiki Hou, - Hugo da Jaw
Date: Thu, 12 Feb 1998 From: (Hugh Foster) Loloau3@aol.com To: tmcb
ATomMc: Rec'd your Email. Have you drowned yet?? El Nino called in from the Tropics and asked me to warn you and the rest of the La Conchita Coast. Heading for Mex in two weeks for cervazas, sun, surf, and mujeres, locked in and loaded up on Hep A and B Vaccines; tetanus and a PSA Test, tambien, then my arm fell off. Trying to Schedule a jump to HNL in March, providing I don't get it on the Freeway in one of these frickin' downpours. I've put off new tires on my Pathfinder until I hydroplaned past two Water Skiers on the 710 freeway last week. If I run into Pat Curren, Walt Phillips, or Mike Doyle down there I will file a report with youse'. Both Son's hopped over to Kauai for Mom's 53rd birthday and made a go-out at "Rifle Range" which is at the Barking Sands Missile Range (end of the road on the south shore past Waimea Canyon). Long, Clean, but very large waves, fortunately open door as they got the "wrap" from the Kauai North Shore which was 30'-40'+; the wrap was a crisp 12'+ with a few HRTD Tubes. (Da Bus-Honolulu Rapid Transit District) The swell was so huge and the wrap so long that "Infinities" just beyond Hanapepe and a south swell spot was closing out at 10' mostly due to the angle. Hope you are well. Plan to get up to your area in the next several months; We must a have Board Meeting. Mas Adelante, Hugo
Subject: Another one bites da dust
Date: Tue, 2 Jun 1998
From: Loloau3@aol.com (Hugh WW Foster)
To: http://atomicbride.com/email.html
ATomMc: Appreciate the Email a while back with the famous Life Mag photo on your Web site. Always fun to see me. The Foster son's have the original framed and hanging in the house in Honolulu and usually always gets comments from all their buddies who have tatoos, shaved heads, jet ski's and tow each other into those North Shore monsters. The definition of fun has definitely changed.
We lost Ernie Tanaka last week, who passed away and was scattered out at his favorite break, Queens Surf. He joins Duke K. and a host of other famous Beach Boys like Blue Makua, et al, in the lineup there, and leaves a son, Tommy. Ernie was 59 and had survived a heart attack, but I am still trying to get information on the exact cause as the heart attack frightened him into a better life style, dropping from two packs to one pack, and from portuguese sausage, spam, and rice to ham and eggs. He was a great friend of Cy Carey and Turtle and came up to California during our hot time in the 50's with Ken Tilton, Terry Woodall, Alan Gomes, Paul Strauch, Chubby Mitchell, and George Kapu. (I think we lost Kapu a couple of years ago when his liver left his body). Ernie had some local friends he stayed in touch with over the years, if you remember Kia Kenny, who played music at the old Sip N Surf in Santa Monica Canyon and Reno Abelliera, Sr. still chopping Haoles at his Karate studio in Anaheim, as well as, Ron Kanemura, "Haga" with whom I play volleyball every week at Corona Del Mar. I remember many good "go outs" at Malibu, County Line, and Topanga with Ernie, who got an engineering degree from USC and taught swimming at the Tocaloma Club in Brentwood, when he was here, and some great days at Tong's, Rice Bowl, and Suicides with Kimo Austin Reno A. Jr., and Paul Strauch when I first moved to the Islands. Anyway, I will now be extra careful of my two Tanaka boards, 8'8" round tail mini-gun (my version of the short board and an absolute rocket) and a 10' 9" "Publics Special"; Rabbit's brother, Jama Kekai, has the twin. We continue to be in touch with our mortality. Keep those unbelieveable photos coming.
PS: The only other guy in the Life article that I could identify besides those you named was a very young Hal Jepson, the film maker. Surfed Honolulu Easter Week, blowing like hell; Cabo May 8th etc. was perfect but small; Trying for July 4th in Honolulu for the Canoe Races, then back to Mex the end of July for hot weather, hot south swell, and hot women. Mas Adelante, Hugo
---
Subject: SURFING HEAVEN - Date: Mon, 8 Jun 1998 - From: Loloau3@aol.com (Hugh WW Foster) To: kahoona@pcmagic.net CC: tmcb
da 'Steak????? Unbelieveable!! Incredible!!!! Tubesteak2000...alive and well. Howzit, buddy?? It has been a while since I saw you at San Onofre. That was when you were the ambassador for the Surfrider Foundation. So many names you mentioned, no mas, pero, Walt Philips?? I thought he was in the Baja still alive and kickin'. And if you mention John Smith, in the same breath you must also mention, Harry Stonelake, Cynthia, the white dog, Virginia (Deetzy) and da Masochist. So many waves ago. Tom McBride's web page is bringing us out of the woodwork, and I know there must be more out in the Net. See JJ. Moon occasionally, and Bill Jensen, Taos, N.M. calls when he visits his daughter in San Diego, and Lester Arndt keeps in timely touch. Every return trip to Honolulu, I see Baby Dave Rochlen and sometimes Ricky (but rarely Robin) Grigg. The Cole brothers are still locked into the north shore and never come to town. Many have asked what board I was on in the Life Mag picture. It was a Jacobs with a balsa stringer made for your neighbor in the Dana Point arena, Chick Edmunds, who hated it and returned it to Hap and I bought it. 10'6" of perfect wave riding machine. Some boards are never duplicated. I'd like to have that one back. Lovin' all of the vintage photos of you that T.McB is webbing. I must dig deep and come up with more. We fooled a lot of em' by making it this far. Hope you are well. Hugo
Subject: Poseley - Date: Thu, 4 June 1998 From: Loloau3@aol.com (Hugh WW Foster) To: tmcb
Hugh, Doug Poseley and I surfed and travelled together. One moonless night as we drove through Camp Pendleton on PCH in his '50's Pontiac with our boards sticking out of the trunk, his headlights went out! Total blackout. We found the side of the road and Doug used some tin-foil to re fuse the wiring and we carried on. I lived at the Silver Sword Inn in Kula, Maui for a while. It was wild, beautiful country on the side of Kaleakala Crater. Doug was married to Erica for some years and laying carpet for money and sailing Hoby Cats at Kanapali. Many stories in that adventure but they don't have anything to do with surfing so I'll save them for another time.
aTomMc: Ah...Doug "Personality" Poseley, remember him well and the perpetual wrist cast that was "something new" you could wear in the water. I am scanning my disappearing brain cells for time, place, and personae, but I saw Doug on one of his rare visits to Honolulu and I have to say Cy Carey was the instigator of the meeting. Time line: some time in the mid 80's I think. Doug had been living on Maui and finally married a little blonde hippy gal and disappeared into upcountry Makawao which is a little cowboy village on the way up the mountain to Kula, Maui. He looked great and was very talkative for Doug and as I remembered he asked about everyone, and then promptly dissolved to Maui, which, as you know, is a lifestyle unto its own. I am sure he is still there living minimalistically and surfing the secret spots, of which, there are dozens. Your inquiry will prompt me to call Cy and have a suds with him whence I go over to discuss Ernie, Doug, et al. I think we all kinda follow our own paths to score goals and scare demons, but it is always great to reunite with those with whom we shared a definite precious time in history, and who have survived thus far. Sidebar: Got Emailed from a Cundall in Pennsylvania thanks to your Web page who was searching for a long lost cousin, Roger, mi amigo, in Honolulu. The Net is definitely here to stay. Mas Luego, Hugo
Email OK? Date: Sun, 21 Jun 1998 From: "Hugh Foster"
Hey Bra! You talkin to one Hawaiian. Dis frickin' Intanet is mo tachnical dan da space program. Was feelin low on fadda's day, but mah keeds den called me from Papeete, so make all good again. They are surfing Tahiti for 10 days, or at least waiting for the next swell which is supposed to hit tomorrow. Currently, it is just a perfect 3-5'. Aw nuts. I'm trying to get over to Hono for the first part of July. Otherwise, probably Labor Day. Tentatively scheduled for Cabo for then except that is prime time for chubasco's and mucho calor, pero, las cerveza's estan muy frio. Can I buy a photo scanner, scan some old photos and then send them to you on the net...or how does that shit work???? da Jaw
konakai@juno.com (Cyrus E Carey): Aloha . . . Date: Wed, 24 Jun 1998
Howzit Hugh
It was good to talk to you, bummers on my amigo Ernie. I'll call his mom - hope she is still around - and get more details. I'm sure when I find his son Tommy, he will being me up to speed. I hesitate to call, I'm sure things are still a bit sensitive. I'll keep you posted.
I'll try to call Doug Poseley this evening and see if he still has that cast on.
I forgot to mention that I always see Buzzy Trent, he walks from Kahala area to Hawaii Kai each day. Now and then I stop and shoot the breeze with him. I'll say hello for you next time.
Cy
Atomic: The above is from Cy Carey along with his Email address. Give him cyber call. I passed on your regards. He is still in Honolulu. Hugh
---
top of page
Subject: Re: Email OK? Date: Sat, 27 Jun 1998 From: "Hugh W. Foster" <Loloau3@aol.com> To:tmcascd@west.net
Regreso Ecorrea Amigo: Muy caliente en Los Cabos ahora, cual es porque estoy viajando a Queens Surf en Primero de Julio. Now that you have validated my Email on the net you are gettin' gabby. I try to travel once a month somewhere usually by auto and then every two months on a plane. Both son's are in Honolulu so I try to get there at least every 2.5 - 3.0 months and the odd months down to Cabo due to the availability of willing women, volleyball, and the surf. I am sure I will end up renting a small bodega down there just to keep rods, reels, boogies, surfboards, fins, etc. cuz I am tired of humping them. The Baja Coast is like early California and Cabo is party central. It's got about two more years before it gets Gringoed out. I am trying to scheme a way to split my time between here and Hawaii and still make enough money to live it up. Very difficult over there, but not impossible. I miss my son's as we fish, surf, and play a lot together, but there is just too much to do here in Calif even though the freeways etc. are just about to bury me. Cy Carey sez you guys are in touch which is good. So funny, Cy didn't even know Ernie was gone. Typical Hawaii. Anyway tell me how to get some photos to you other than a trip to SB. Cy sez he has some also. I am going to call him when I get there Wednesday. Back to Calif and work by Tuesday. Stay wet. da Jaw
From: Hugh Foster <loloau@cabotel.com.mx> To: tmcb - Saturday, May 27, 2000 Subject: Chequerando indentro
Howzit Atomic: Long time no escuchar, so I am checking in from my Mex email. AOL address is still good. Are you fighting the fog in the Springtime? Otherwise how is life treating you? Had a couple of big south swells here beginning with the traditional Mothers Day swell both here and Hawaii. Still getting email and calls from your website from long lost Malibuers from our golden age. Weather beginning to warm up and soon we will have the chubascos and finally some rain, a rare event in Baja South. Check in soon. Hasta, Hugo
Hugh, The fog left yesterday and it's been beautiful. Sunny and cool. Everything's fairly normal. Saw a good documentary film called "Surfing for Life" at local Santa Barbara theatre. Featuring older folks who are still surfing. Fred VanDyke was there along with Eve Fletcher. Funny and sad. Tom
I know what you mean about sad, our lives, surfing, the places, and the people are beginning to thin out, and I see Lee Grannis and Fred once in a while and man do they look old, but they still get out there. Warm water really helps like here and in Hawaii, and plenty of advil. I have small board down here which I belly for the takeoff and then eventually get up herky jerky before I get clocked by a section. I will look for that film, as I get back to Newport once a month or so, because I still haven't completed the extraction from California to Mexico. I got an email from a Malibu guy who got the address through your web page. I used to guard in front of his house at the Colony, and he wanted to know if I was the same dude. Fun talking old times with him and it's amazing how many guys are still kickin and then how many aren't. I get a call from Mysto George about once a year. Still Mysto. I see Rabbit everytime I go back to Honolulu. He is still surfing, still bullshitting, but getting up there as he must be pushing late 70's. Good to hear from you. Hasta pronto, Hugo
---
Sat. 09 Sept 2000 From: Loloau3@aol.com To: tmcb

Hola ATomic: We are getting our ass kicked from Hurricane Lane. You can see on the weather channel, mexico satellite. Should blow through, high surf, surge, and winds, victory at sea, and screwing up my bar on the beach; it is heading west so you guys should get a little swell pulse as it is not weakening as it follows the 90 deg water north. We just got our power back. Ugly, but nothing to do except crawl inside something warm, moist, and fuzzy, pound a Corona, watch football and try to explain the game to her in espanol. I will dig out some pic's but I think everything is in Honolulu, so I will have someone click a couple down here for some "after" shots of me "rushing" the 3'ankle snappers at Costa Azul on my tanker. Corb Donahue just emailed me after checking your websites; totally stoked to hear from him. He lives in San Clemente after another life in Australia. Surfed last week with Strauch and Henry Ford at Onofre. One of my most hated Breaks in the world. Let the Marines have it, I say. Next trip back to the World, I will need to pick up another scanner as my chica took it with her to Colima. I should say my ex chica, cuz she never came back. Good thing it was a physical thing all it cost was an airline ticket and a scanner. Beside she was at the MAA (max acceptable age)...29! Dark skin and black hair, con 'nocha que rica, muy buena! Your sites are super and I still cannot believe how many of us it has brought together. Just met an MD from Ventura, surfer dude, Mark Smith is his name and he tells me that all the empty beach breaks between Vent and SB are now being surfed; that they did away with the Oil Piers, and that the friggin water is still 60 or less there. You need to migrate south. Plenty of RV parks to manage in the Baja, cold beer, hot chicas, warm water, and no one out. Andale pues, Hugo - Pretty good summer here all in all;
---
¿Vida o muerte??
Tue, 15 May 2001
From: "Hugh W. Foster" <loloau@cabotel.com.mx>
To: tmcb

"Hugh W. Foster" wrote:

Que paso, ATomic, are you alive or dead? Mucho tiempo, no escuche.
A young summer south swell is ripping through the Cape, not big, 3-6' mas o menos, reminded me of the 'Bu. I want to rush it, except the agua is still a COOL 75 degrees brrrr, and my shoulder is still hurting. Old Age? Naaaah!
How is the Website biz? R U still dabbling or making a living. You gotta do something there, can't surf in SB, foggy, cold and overcast, and a few Tiburon Blancos por cierto, NO? Any news from any of our compadres? Hope all is well.
Adviso cuando puede. Hugo

Ola señor Hugo,
¿Como esta?
Cool water at 75°? Too bad. It might be 58° here in Carpinteria..
¿Que es 'Tiburon Blanco por cierto?
I'm dead and this is from the grave - ding dong.
I've become
http://atomicbride.com
and have ported most of my pages to that moniker.
I'm still managing the Mobile Home Park for the feeble minded.
I've heard a few things from Tom Powell and Tubesteak had some sort of operation on his foot (?).
Tube's messages are so vague I'm not sure how he's doing.
The sea is flat and the sky is gray - day after day - boringly depressing.
All's well and I trust you're taking care of yourself.
Thanks for your note.
Tom

Tomas,
Good to hear from you, even from the gray grave of SB County. You need sun, surf, and warm water to reach the promised land.
Tiburon Blanco = White Shark, the dreaded marauder of the Channel Islands.
Years ago, Bob Cooper and I got chased out of the water at Carpinteria Pier by a very large dorsal fin on a glassy overcast 4-6' day. The pier anglers said it was a 12' White. Santa Barbara and northward is as bad as Australia. Everytime I belly board I have flashbacks. No chance of kicking ass on those guys.
The Tube must have stepped on a pop top at 'Nofre while pontificating from his lifetime chair. I love his websites between laughs and tears. Yours too, as I get many comments from our buddies in Hawaii and Newport; I am suprised.
Still cruising in Mex, but tiring of it a little. I miss the sirens, smog, and sigalerts. Pinch me.
Hasta, Hugo
---

----- Original Message -----
From: tmcb http://atomicbride.com/email.html
To: Hugh W. Foster <loloau@cabotel.com.mx>
Sent: Saturday, June 16, 2001

Subject: Makes you Think?
Hugh W.,
Thanks for the reminder about how poor I really am! It is always amazing to see what some folks have. Hope you're well and enjoying yourself. All's well here.
There's a 3rd edition of the book, "Gidget" coming out and I guess little old Kathy will be at some book signing at Barnes and Noble in Santa Monica on Tues. the 19th. Powell and Gugelyk and Royer are going. I'm staying away from anything having to do with what I see as the ruination of the simple life that was surfing pre 'Gidget'.
Uoo a bit bitter? yep!
Have fun
Tom

Date: Sat, 16 Jun 2001
From: "Hugh W. Foster" <loloau@cabotel.com.mx>
To: http://atomicbride.com/email.html

Shit, don't they ever quit. Pretty soon, Gidget 5 and Son of Gidget. We can love the fact that we were pre Gidget, and enjoyed the pre plastic era.
Big right slides from both 1st and 2nd Points at Malibu with no one out, getting snagged by Kelp and grabbing Bugs and Abs from the tidepools at Little Dume. Ah those were the days.
However, I would love to see Powell, Guge, and Royer. Does Royer still have that friggin dog?
I will be up the weekend of the 30th, for some R and R in Newport then back to Hawaii, for a while. I will say hello to your fans over there like Baby Dave Rochlen, all 350 lbs of him. Big Dave Rochlen (Surfline) I guess is still fighting the good fight against the Big C. A friend told me he has made some goodbye calls to his buddies, but he is a strong dude. He was part of the pre pre Gidget, our forefathers, Matt Kivlin et.al. Anyway hope the June Gloom isnt too bad in Santa Barbara..
Mas tarde, Hugo
PS: Freddie Hemmings asked me about you last Xmas, I guess he tunes into your Web pages for some chuckles.
Aloja
Hugh
---
March 9, 2006
To Hugh
Had two recent "gatherings of friends".
1. Duke Michael, Bill Royer, Tom Powell, Dutch Vandervoort, Dean Ward, and me at Carpinteria
http://www.atomicbride.com/oldfriends206.html
2. Same group (sans Dutch and Dean) at Malibu where we ended up at Duke's of Malibu where we met up with Kathy and "Mysto" George
http://www.atomicbride.com/gidget.html
Windy and cold today.
Hope you are well
Tom
---
March 12, 2006
Hola and Aloha.....
thanx for passing on saludos to our amigos for me.

Glad to see that they [we] are all still vertical.

Went to Honolulu for my grandsons 1st birthday Luau, Ricky Grigg Baby Dave and Joe Dubiel are still looking good, saw them at Xmas

but we lost Mike McMahon just after Xmas....he was a class or two ahead of us at Samo....(Santa Monica Hih School)

.my son just bought one of the last surfboards Joe Quigg recently made what a beaut and a classic.....Joe got cancer at the same time I did, but theygot mine, but apparently not his, so I guess he is close to the Big Wave in the sky....but battling and still swinging...

Slow but sure on my boat....repairs, beers and babes are cheaper in Ensenada

than Cabo and the US....but slower...manana is still alive and well...


....hate the cold weather/cold water...need to escape south to Maz or Puerto Vallarta...


Cabo has priced itself out and not really my kinda of Mexico..too much like Zooport....


...".no life above 21 degrees N.Latitude."...ha!...well for me anyway...


Stay well amigo...and, again, great pics..


hasta la pronto...





OOOO-GO....[Hugo] (as they say down south,

but still Big Hugh in Hawaii.....but not as


big as Little Hugh my son....6''7" and 275 #....too much fish and poi and not enough


volleyball or surfing....ha!)

---


2006