Photos of Tom McBride surfing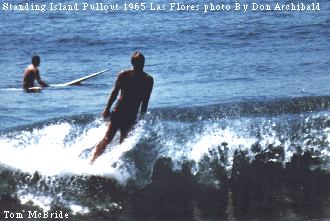 Click on the picture above to go to another site featuring photos and stories from Malibu in the 60's
---
Click on Text or Pictures below - for 4 larger Photos
---

Click for view of Surf Wear Ad from 1965
These pictures were taken years ago. The thrill remains, as well as unforgettable memories.
Las Flores Beach is in Malibu, south of what use to be the Sea Lion Restaurant on the point.
I lived on this beach. The sand and surf were my front yard. 10' longboards. Nothing better.
More Photos from the past at Malibu
Thanks for visiting.