charles bukowski and me and amazon.com
all the bitter, miserable, lonely people feeling short-changed,

feeling betrayed by the forces, they blame life, they blame

circumstances, they blame others while actually

they

are totally unappetizing, dutifully unoriginal, they are

cowardly and placid, sunk in self-pity, having done

nothing right, they still feel wronged, swarming the earth with

their grievances, their hatreds -

dead-eyed in the center of nowhere, these millions of human

errors, going day to day and night to night through

their castrated motions,

it hurts the very earth, it hurts everything,

this waste

the horror of all this

waste.

---

once

we were young

at this

machine...

drinking

smoking

typing

it was a most

splendid

miraculous

time

still

is

only now

instead of

moving toward

time

it

moves toward

us

makes each word

drill

into the

paper

clear

fast

hard

feeding a

closing

space.
---
Top of Page
Go To: The Masses - Luck - Half Way There
The Masses and Luck by Charles Bukowski
Copyright © 1990. Published by Black Sparrow Press, 24 Tenth Street, Santa Rosa, CA 95401
Available at Amazon: Online Books: http://www.amazon.com


---
Half Way There
Old surfer's party at the Big Yellow House in Summerland, CA - April 10, 1999
sitting at the table after eating a 20 dollar dinner
downing 2 tequilas neat
next to the guy next to me is this guy named larry.
ya larry
I haven't seen this guy larry for a long time
and here he is with long hair talking to this guy I've known for years
like ray kunze who happens to 'work' at the ranch
ya the hollister ranch
so me being bright (an all)
reaches over ray with my hand out saying
"larry?.... bill's friend? I'm bill's friend, tom"
he looks at me and takes my hand
and says, "ya, ya, like tom, ah....?"
he's tryin to put the whole thing together
not believing I'm the same guy who knows bill
and here I sit next to a guy who knows me
and who he knows really well and we're all just sitting there
throwin the bull and shovlin the shit
and we all know each other and have some cross links in there too.
so later I'm sitting on this couch next to ray's girlfriend
and I ask her to dance with me
and she says sure and gives me her hand
and we dance.
it ain't great and I'm tryin to show off
hey, this 60 year old can still move
but I forget to breath and pass out.
believe it
I pass out on the dance floor!
so the next thing I know I'm waking up on the couch
my face all wet and someone asks, "you OK?"
well duh. I'm here aren't I?
of course I'm OK so let's dance
and away we go
then the band stops playing
I say goodnight to those I know
the party's over
I drive home
the end
tmcb

I see her get out of the shiny car and cross the street with a strange walk.
a long slit runs from ankle to thigh up her long green dress. She walks as though her back hurts.
Her companion is a huge brown man.

His head shaved except for a center strip which terminates in a long braid hanging down his broad back.
She's petite and blond.
In the lobby we stand with others waiting for the elevator in the hotel.
The giant man has a gentle childlike voice. She turns. I catch her looking at me.
We ride together silently.
I get out, they ride on
Now in my room I wonder;
is this the woman in the hair salon who wanted to cut my hair and who seemed to have a problem with her back?
I sat waiting for my haircut
attracted to her.
She kept looking at me.
I wanted her hands on my head.
I wanted her to cut my hair
but when my turn came, she didn't have the clippers to buzz it and the "first come, first served" policy didn't allow us to meet.
Now here she is
dressed up, looking beautiful, going to the roof for dinner at the Marriott with her body-building boy friend.
Alone now
thinking of her.
I admire her features - like looking at a new car in a showroom window
and me
the mechanic
outside
looking in.
TMcB @ Marriott Hotel, Monterey, California October 25, 1997
---


2005
---

---

Photographs by John S. Kiewit: - "Gone to Sanctuary - From the Sins of Confusion"
---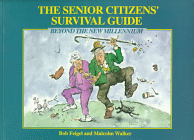 "The Senior Citizens' Survival Guide - Beyond The New Millennium" by Robert Feigel and Malcolm Walker
---

"The Soul of Surfing" by Fred Hemmings
---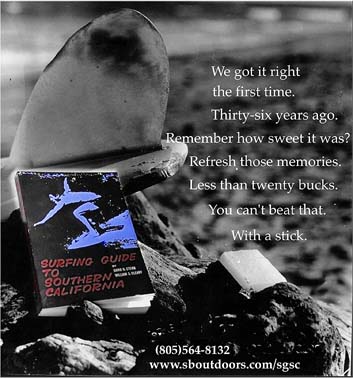 "Surfing Guide to Southern California" by Bill Cleary and David H. Stern
---
Anoai Press publishes literature of all types -- novels, short stories, oral history, poetry and children's books.
Hawaiian-Pacific and East-West themes. Topics of interest to senior surfers are also a specialty.