Surfing Fun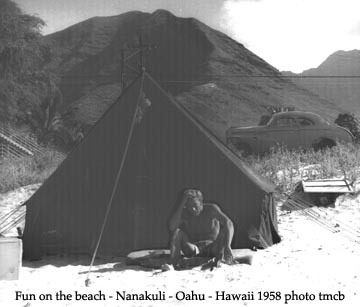 Gary Jones and I borrowed this tent from Danny Kaiimi and set it up on the beach at Nanakuli.
The first night we were serenaded by a mahu from the pedestrian overpass in the background..
We didn't last long because it was too much trouble and we couldn't leave anything there.
Note the car in the background
---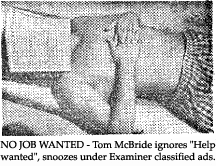 Photo from an article that appeared in the Los Angeles Examiner - Mon. June 27, 1960
The article was titled, "They Sur(f)vive Without Work" by Bill Brown
The opening line of the article said, "A job is only a job but surfboarding is a way of life".
---
High contrast. We jump to a backyard party in Montecito with 2 of the Beach Boys and thieir wives.
This was much more fun than Nanakuli and 40 (plus) years later.....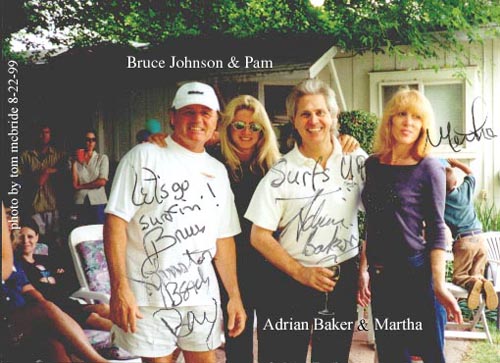 ---
I bought a nice sport coat from Bruce Johnson (Beach Boys) - at State beach one day some 40 years ago for $10.00.
He'd stolen the coat from Terry Melcher at a party the night before.
The coat was from Carroll & Co. Beverly Hills and fit me real nice for many years.
Probably the most inexpensive expensive coat I'll ever own.
Hadn't worn it for many years and in a bold move, unceremoniously put it in the trash can a while ago.
Starngely, that action still hurts a little since the coat reminded me (after all these years) of that day in the parking lot at State Beach.
Tom McBride


HOME