653 Paseo Nuevo - 2 nd floor
Santa Barbara, California 93101
Take the elevator or the stairs to the second floor at De la Guerra and Chapala Streets
Phone: (805) 966-5373 for further information
Open Tuesday through Saturday 11:00 - 5:00, Sunday 12:00 - 5:00
Public Welcome - Free Admission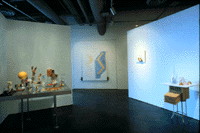 ---
Since 1976, the Santa Barbara Contemporary Arts Forum (CAF) has been a brilliant vehicle for bringing people, art and ideas together.
CAF provides a lively and challenging arena for the presentation, documentation and support of a broad variety of visual, performance and media arts.
Committed to encouraging the creation and showing of new work of high artistic merit,
CAF presents the work of local, regional national and international artists in 15 to 20 exhibitions annually.
Through its programs, CAF also aims to promote the understanding of contemporary art as an expression of aesthetic and social issues of our times.
Our programs may be provocative or disturbing, humorous or controversial, but always worthy of consideration and discussion.
"It is as true throughout history as it is now, contemporary art -by its nature- tests limits, crosses boundaries, asks questions, and poses challenges.
It can be both a mirror and a bellwether, telling us about who we are and giving us a glimpse of where we may be headed."
Nancy Doll, Former Director, CAF
CAF is a membership supported, non-profit organization





Art must be seen, heard and felt... one way or another,

lest it become nothing more than a self-serving therapy session existing in a void. tmcb

Visit the Gallery today !

Contact CAF to become a member

Phone: (805) - 966-5373 for further information
Email - Santa Barbara Contemporary Arts Forum
Return to Santa Barbara Art Listing

Comments, questions or suggestions regarding this page - Click Here
---
2007