Old Time Radio Memories
---
Many of the following memories are from two Friends; Bob Feigel and Tom McBride (along with others) sharing childhood radio memories.
Bob, We've heard a lot of the same radio shows.
I've made corrections and additions from my memory, using red within your recollections.
This is great history.
Live radio was very influential and imaginative. Tom


Please note: I've heard from many people who shared their memories. Sometimes memories aren't exactly the same, so, enjoy yourself and feel free to share memories.

Bob wrote:
Good Lord! Up 'till now I was only aware of one other person beside myself who remembers "The Buster Brown Show" (Shoes), "Hi, I'm Buster Brown, I live in a shoe. "Whoof", That's my dog Tyge. Look for him in there too" with Smilin' Ed and the Gang, Froggie the Gremlin - my favourite 'shit-stirrer' (as they say down here). (New Zealand)
I must admit to still doing my gravely 'Froggie' imitation on the odd (and over-indulgent) occasion. Ditto. Also, Midnight the Cat and Squeaky the Mouse. One of my favourite things was when (Smilin' Ed) would yell an order to Froggie that went something like: "Clang your magic <something> Froggie!" (Or was that, "Wave the magic <something> Froggie"?). It was, "Plunk your magic twanger, Froggie!" Then something would go: "Boioyoiooyoio...yoinoooooong!" The other was when the bumbling old explorer would try to tell his story and Froggie would keep interrupting him and make him lose his place. I'm laughing because Froggie would pick up on one of his lines and turn it around, causing a minor disaster in the story. Smilin' Ed would say, "Now Froggie, stop that. You're confusing Mr. Explorer (or Mr. Gymnasium)" Froggie would say, "ah ah ah, I would I would, I would", and Midnight the Cat would say, "Nice".
To me, radio was the best of the best. When I had chicken pox or mumps or something that kept me in bed for a few days, I would march my fingers around the bed with 'Don McNeil and the Breakfast Club', wonder what people found so great about Arthur Godfrey and listen to all the daytime shows like 'Queen for a Day' and the soap operas I'd usually miss because of school. But the real good stuff came on in the evenings, Ozzie and Harriet, Jack Benny, Charlie McCarthy, Boston Blacky, Johnny Dollar - and then there were all the kid shows on weekend mornings.
Remember: "Sky King and Penny", "The Lone Ranger and Tonto ("Kimo sabe")", "Jack Armstrong - "The All-American Boy", "Flash Gordon", "Buck Rogers?
Quiz time - what show did this come from: "Who knows what evil lurks in the minds of men? ... The Shadow knows...eheeheeheeheeheeheeheheh!!!
Lamont Cranston was 'The Shadow', "The Green Hornet and Kato", "Superman", "Batman and Robin". "The Great Gildersleeve", "Amos 'N Andy", "Baby Snooks", "The Bickerson's", "Burns & Allen", "Duffy's Tavern", "Fibber McGee & Molly", "Fred Allen", "Life of Riley", "Jack Benny (with Mary Livingston, Rochester and Mrs. Bufforfington)" and a multitude of other very funny and entertaining radio characters and stories.
Click on Links at bottom of this page for other sites featuring many great radio memories.
Saturday Kid's matinee at the Aero Theatre on Montana and westerns at the 'Hitching Post' on 3rd street where you had to check your (cap) gun at the box office.
Do you remember 'The Whistler'? "Brought to you by Signal Gasoline."
And, "Brush your teeth with Colgate, Colgate Dental Cream. It cleans your breath (what a toothpaste) while it cleans your teeth".
The Sunday (Radio) comics and The Kraft Mystery Theatre. Those were really something.
One of the Sunday only comics I still remember featured a girl named Mary Jane and her little friend named 'Sniffles'. They'd have these great adventures by shrinking small enough to walk into pictures after Mary Jane would say, "Piff paff piffles, make me just as small as Sniffles." "Poof, poof piffles. Please make me small as Sniffles." In later years I couldn't help but wonder if Mary Jane and her sidekicks were sneaking a few puffs of 'TJ Oregano' (or 'Wacky-Backy' as they call it down here). Click on the image below or the link and find out that Sniffles also enjoyed a drink now and then.

When the series debuted, Mary Jane sprinkled herself in magic dust and chanted, "Magic sand, magic sand, make me small at my command!" At times, she'd vary her pleas to the powder: "Oh, magic sand upon me fall, and make me very, very small!"

But after eight years or so in print, the magic sand was no longer necessary, and Mary Jane murmured, "First I shut my eyes real tight, then I wish with all my might! Magic words of poof, poof, piffles, make me just as small as Sniffles." And with a cross of her fingers, she'd become miniscule.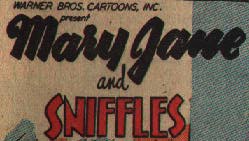 There were cartoons made of Mary Jane and Sniffles. Check out those stories at: Google

---
Also, "My name is Jump-Jump, Jolly little Jump-Jump, work is always play. My favorite friend, my very best friend, is Mary Holiday."
---
Re: Jump Jump
Date: Tue, 4 Feb 2003
From: Tpandme472@cs.com
To:Tom McBride

I think It was: "My name is Jump-Jump jolly little Jump-Jump, work is always play, I'm quick as the wind and my very best friend is Mary Holiday.
I was sitting around trying to think of something to look for on E-Bay and typed in Jump Jump...nothing.... Then Mary Holiday and a few misc. things came up.
So when I went to Google and typed in Mary Holiday and Jump Jump I about flipped when I found your Old Time Radio site.
Thank you sooooo much for the memories and letting me know that someone besides me remembers Jump-Jump. Have a good one, Peggy

I asked Peggy where she was when she heard some of the old shows....
Hi Tom,
If I remember right, I was living in Arcadia, California and it might have been in the late forties? After that we moved up here to Oregon, and I don't
think it was then, boy that was a long time ago. There was another program that I kinda remember but that was later, something about a genie and he always
sneezed - seems like he would take you on travels or something. Boy I wish I could pull it out. I'll have to work on that one. Maybe you know something
about it.
Thanks for the reply. I'll keep in touch. Peggy
ps. Later on my favorite was to stay up late with my brother and listen to "I Love a Mystery" with Jack, Doc, and Reggie. I think it was on from 10:00 to 10:15 every night. That was after we moved up to Oregon in 1950's, They hadn't gotten TV up here yet.....

Peggy, we need to find someone who knows all the verses of that theme song for Mary Holiday and Jump Jump.
I'll repeat myself by saying that the fascinating thing about radio was the use of your imagination to conjure up images of the characters in you own mind.
I remember how vague some of them seemed and it didn't matter what they looked like, I'd get caught up in the vocalizations of the characters.
I think this is a distraction to this day when I express some of my personal characteristics to my family and friends through various voice characters.
Fortunately, one of my grandsons appreciates some of the silliness....and he'll laugh along with me.
---
August 2005
Hi Tom,
I just visited your Old Time Radio site and loved it. I was reading and came across your letter from Peggy about the kid's T.V. show " Jump Jump". I didn't know that anyone else remembered it. I watched Jump Jump in Los Angeles in the early 1950's. It was one of my favorites and over the years (and there have been a lot of years since then) I have always remembered most of the theme song and have asked friends if they remember watching it. Not one had, not even my brother. How thrilled to read that you and Peggy remember it. I remember the lyrics as Peggy did except I always thought it was "My name is Jump Jump, Jolly little Jump Jump, Work is always play, I'm quick as a Wink and my very best friend is Mary Holiday." I don't know if it was "wink" or "wind" as Peggy had written. Although "wind" rhymes with "friend". Do you know if there's any other information, pictures, etc. on Jump Jump? I did read in a book on Kid's T.V. programs , that it was "Jump Jump of Holiday House" and first aired on T.V. in 1951 and he was an elf. That's about all I found.
And of course, "FROGGY" (Andy's Gang) was the BOMB! I even own a "Froggy" and he is a treasure. I also found a "Webster Web Foot" (if you remember him) doll.
Please let me know if you find out more on Jump Jump.
Thanks for the wonderful memories !
---
Great memories Sheila!
I still remember the song as:
"My name is Jump Jump, Jolly little Jump Jump, Work is always play, My favorite friend, My very best friend, is Mary Holiday."
Froggy was a favorite because he was so mischievious.
"Webster web foot" is a name I remember but can't place the character.
Thanks for you info.
Tom McBride
---
Even though I was a big fan of Soupy Sales in High School, THE BEST! Radio was definitely the 'Theatre of the Mind' for me and I'm pleased that NZ still has a good variety of programmes on the three taxpayer funded radio networks. Plays, comedy shows from the BBC and the reading of books like 'Hitchhikers Guide to the Galaxy' and one of the funniest things I've ever heard (or read), 'The Lost Continent' by Bill Bryson. Great stuff!
You're lucky. That venue isn't supported much in the states. Little public support for the Arts although Garrison Keillor still has a weekly show on National Public Radio (NPR).
By the way, you asked why I picked 55 as the starting age for my book, Senior Citizens' Survival Guide. I chose it because that's the age you have to be before you can live in Sun City (or at least it was when I was stuck there). Besides, I've heard it said that 50 is the youth of old age, and the old age of youth".
My question relates to the drawings and examples given. I associate those tendencies with much older people. I'm 65 and in total denial, trying to remember not to grunt everytime I get up from my lounge chair. Ha.
The 1990 edition of the book did well and sold over 50,000 copies in NZ, Australia, the UK and USA. The 1997 release I sent you is also doing well in NZ, OZ and the UK, and is being sold in the U.S. through Amazon.com on the Internet.
Thanks for all your great stories. Stay well, Tom McBride.
---
Your website on old time radio shows brought back lots of memories...thanks...I had rheumatic fever when I was about 6 and spent a lot of time listening to the radio......Aunt Fanny on the Breakfast Club, all the westerns in the afternoon, Andy Devine playing Jingles, Wild Bill's sidekick, etc.

I had almost forgotten "No School Today" with Big John & Sparky....I think they had an afternoon show too.... And that is when comedy was really funny instead of just shocking. They still play some of those old shows here in the Houston area on Sat. and Sun. nights......Sponsored by Stan Freburg....When Radio Was.....

Thanks for the memories!

Date: Jun 2000 - From: Dave Stoops <dcstoop@wt.net> To: tmcb


According to the website: http://www.old-time.com/themes.html

The radio show; "No School Today / Big Jon and Sparkie" had the theme "The Teddy Bears Picnic".

The words for the song are:

If you go down to the woods today - You're sure of a big surprise - If you go down to the woods today - You'd better go in disguise

For ev'ry bear that ever there was - Will gather there for certain, because - Today's the day the Teddy Bears have their picnic.

Ev'ry Teddy Bear who's been good - Is sure of a treat today. - There's lots of marvelous things to eat - And wonderful games to play

Beneath the trees where nobody sees - They'll hide and seek as long as they please - 'Cause that's the way the Teddy Bears have their picnic

If you go down to the woods today - You'd better not go alone - It's lovely down in the woods today - But safer to stay at home

For ev'ry bear that ever there was - Will gather there for certain, because - Today's the day the Teddy Bears have their picnic.

Picnic time for Teddy Bears - The little Teddy Bears are having a lovely time today - Watch them, catch them unawares - And see them picnic on their holiday.

See them gaily gad about - They love to play and shout; - They never have any care;

At six o'clock their Mummies and Daddies, - Will take them home to bed, - Because they're tired little Teddy Bears.

Lyrics to The Teddy Bears' Picnic written by Jimmy Kennedy

---
Hi,

It is icy and there is no school today in Naples, ME.

I brought to mind the many Saturdays when I sat in front of the radio and listened to No School Today with Big John and Sparky. I then lived in the Champlain Islands of Vermont and though there were few school cancelations but there was one year when we had to make up a day on Saturday. Our teacher, Blanche Dubuque, knew how disappointed the kids in her classroom (Grades 1-3) would be if we missed the show so she turned on the radio and even if there was school that Saturday, we didn't miss our favorite show.

Sharon Dubuque (no relation to Blanche) Devorss
---
Hello, Enjoyed reading your recollections regarding old time radio childrens' shows.
You did remember Buzz Cory and SPACE PATROL, didn't you? I remember they had a beautiful theme song..
Speaking of theme songs, Regarding the Big Jon and Sparkie theme song, the Teddy Bear's Picnic, I remember they used to play a different version of that song each time they started the new segments of each hour show. Some were vocal, but one in particular was a deep-throated pipe organ version of that song. Unforgettable. I was very fortunate to hear that organ rendition in its entirety only once, when my mom took me to the movies in 1953 and they played that over the loud speaker. A most memorable experience.
My question is, does anyone know the artist who played the organ version of Teddy Bears' Picnic, as played on Big Jon's radio show?
I've been looking for a copy, and knowing the artist's name would be very helpful.. Thanks for sharing your website. 01/06 --
Dan Collier
, Laughlin, Nevada
---

For further Information, Fabulous Facts and Sample Sound Clips of Old Time Radio
CLICK HERE

http://www.old-time.com/
---
Subject: Old Time Radio
Date: Mon, 6 Jan 2003
From: "Arne Zaslove" <arnezaslove@earthlink.net>
To: tmcb
FYI,
For over 25 years [1976-1999] I recreated the Golden Age of Radio, as a live stage production while I was artistic director of the Bathhouse Theater here in Seattle. I think I must have done over 30 different shows. We toured the show all over the western states, Vancouver BC and L.A. even took a holiday version to Cincinnati. The format was just spin the dial through history and we'd land on a show, news, music, everything. I covered the beginning of radio with Sarnoff in Wannamaker's department store and usually ended with a new years eve count-down to 1950, when t.v. reared it's ugly eye.
Everything onstage pertained to radio in every aspect. Control booth, homes, antique radios (my own collection) RCA mics., listening stations and eventually I staged some shows with movement. Of course the band and sound table were always featured.
Woody Allen should be flogged for his weak film of Radio Days. He missed it!
We called them The Big Broadcast, or The Holiday Big Broadcast, when I finally got bored, we named one of them The Final Big Broadcast, and then the Return of.... The first one was mounted in 1976, and we really had to dig for transcripts and audio versions. Those old lp's helped and then suddenly collectors came out of the basements and we had a plethora of material. Then the big nostalgia boom occured and we had plenty of material to mine. The version in Vancouver BC was loaded with Canadian content. We always would stop for a lengthy though cut version of a mystery, or Snooks, or Vic & Sade, Jack Armstrong, etc.. Then we learned about the Vic & Sade Society. We tried to reach Rymer's widow but failed. We even did two full length shows entitled A Day in the Life of Vic & Sade, and Anothe Day in.....Complete with a little house, with an attic - we edited several shows into a complete evening. The actors could barely get through certain episodes with out breaking concentration, whenever Uncle Fletcher was there. "Stuff happens...."
Sincerely,
Arne Zaslove
---
Another great site and a new project is the:

AMERICAN MUSEUM OF RADIO
Where discovery sparks imagination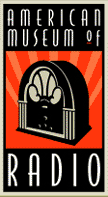 Note: Some sites and links have changed since this site was first published.

Emal Tom (below) if you have additional links or memories of interest to share. Enjoy Life!

---

2008